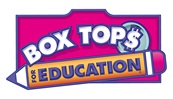 If you're looking for an easy way to help support Hawthorn schools, start clipping Box Tops for Education from participating products. This program helps schools earn extra cash to buy the things they need. Each Box Top is worth 10¢ and they add up fast! Throughout the year, many products offer additional bonus coupons on those products worth even more!!! Schools across America have earned more than $600 million through Box Tops programs since the program started in 1996.
How it Works:

View a list of participating products. You may be surprised to see how many you already have in your home!
Clip the Box Top coupons from the packaging before you throw it away.
Be sure to look over the whole box: Some packages offer bonus Box Tops on the side or back of the package.
There is an expiration date on the coupons; expired coupons are not redeemable.
Make sure that the expiration date AND the product code are visible on the coupon for submission.
Send the clipped Box Tops with your child to school to turn in to his/her teacher.

What's New?
Last year we earned $5,037 for our schools! Help us reach our goal this year of $5,250.
Did you know that if you sign up at the Box Tops website (www.btfe.com) you have access to new coupons for Box Tops products every month?
Ask family for their Box tops too!
Committee Information
We are always in need of volunteers to cut and sort the Box Tops. If you are interested in donating an hour or two of your time, please contact the Box Tops coordinator at boxtops@hawthornpto.org.